Jerry has been working on some clocks he's making for the Sandy Rivers Quilting Retreat in Mercer Maine... the idea will be to have the background on the face of the clock to be an actual quilt fabric square either pre-made or personally made by any of her quilters, perhaps to match something they are making for themselves....
We found some great ideas on an Amish clock and cabinet making site.... but think the background was just either painted to printed on paper... so that gave me the idea to make a pattern from SU paper and emboss it to give it a quilted look... but I just found this idea on Karen Barber's blog... so she's done all the work already... made with these awesome Designer Series Paper from Stampin' Up and emboss the square with the Wallpaper or Square Lattice Embossing Folder...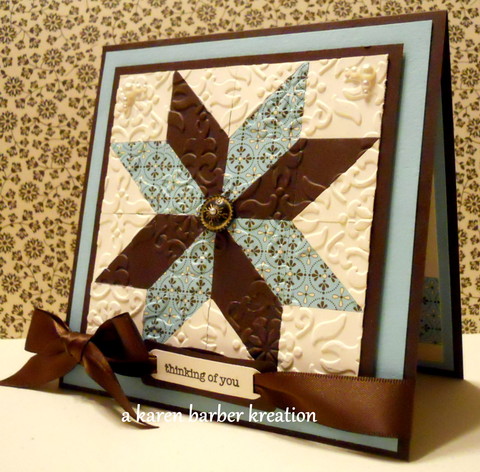 Here's her instructions.... You start by making a bunch of one inch squares.... You need four of the DSP, four of the Early Espresso and eight of the vanilla. Then you cut all but the four corner vanilla squares in half from point to point crosswise. Start in the middle of SU's grid paper andmake your star by using the lines on the grid paper to keep things straight. Then you trim the edges, you have glued your quilt right down to the grid paper and just cut the entire pattern square out. Then choose an emobssing folder and run the whole thing through your Big Shot to give it the quilted appearance.

Hey I can even use the metal arrows from
SU for the clock hands!!!
Think it'll work???