Often I'll see a card that is sooo simple yet sooo elegant... I have to keep reminding myself that sometime less is better.... here's proof from Celia Cawthon... she does it beautifully!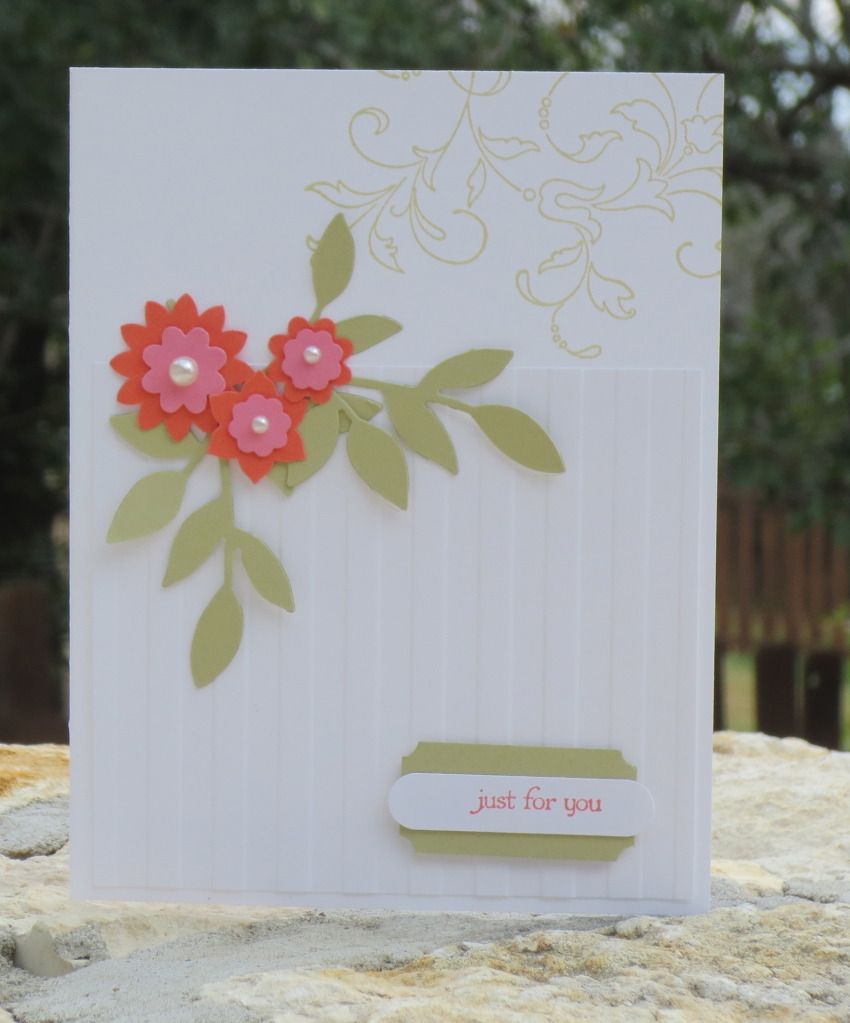 When Celia made this card she realized it looked like flowers
peeking over the fence
of her next door neighbor! So like any creative and inspired gal, she made this set below right away!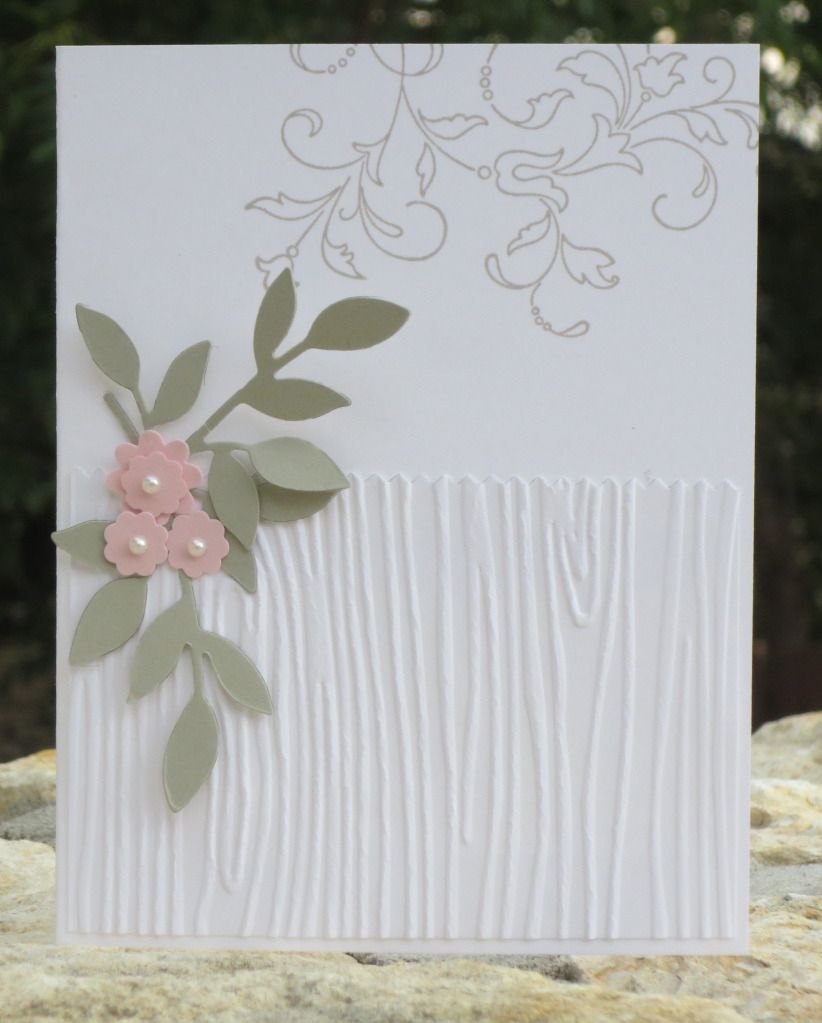 She used the Finishing Touches Edgelit to cut the "pinking" edges and then embossed with the Woodgrain Embossing Folder. Notice she left a sentiment off of the second card... I often do the same on purpose and wait until just before I give a card... then it's specific to the occasion.. Birthday, Thank You, Get Well... etc...
Stamps
: Creative Elements, Teeny Tiny Wishes for the sentiment on the first card
Paper
: Whisper White, River Rock or Sahara Sand, Calypso Coral and Regal Rose, or Pink Pirhouette
Ink
: River Rock or Sahara Sand
Tools
: Big Shot, Stripes or Woodgrain embossing folders, Little Leaves Sizzlit, Boho and Bitty Punch Pack punches, Ticket Duo Builder and Word Window punches
Finishing Touch
: Basic Jewel Pearls
With the same idea in mind, she used the
Flowering Flourishes and Sweet Essentials
to make several of these cards ...
The colors are muted, but still sweet enough in times of support and hello, too.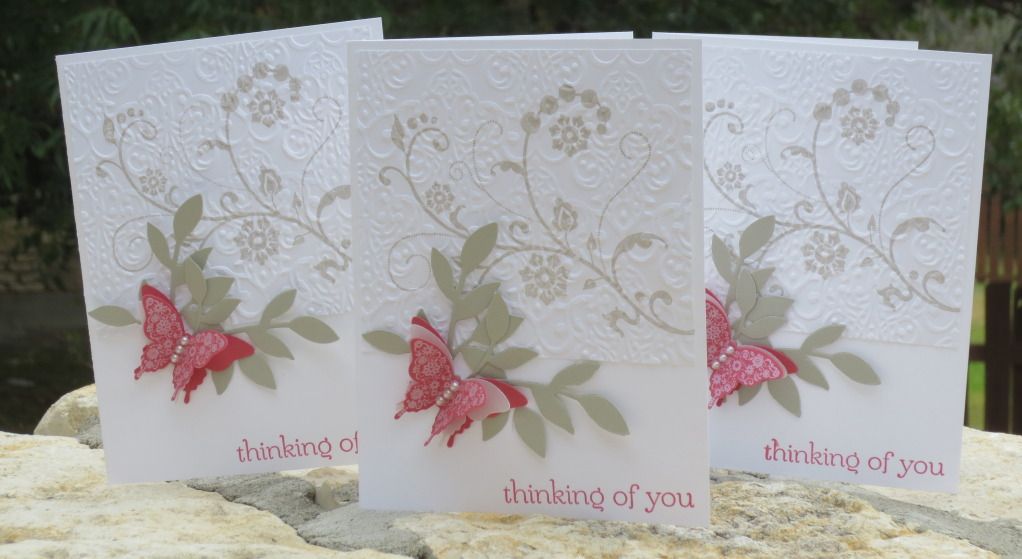 Stamps:
Flowering Flourishes, Sweet Essentials, Papillon Potpourii
Paper
: Whisper White, Sahara Sand, Primrose Petals
Ink
: Sahara Sand, CRAFT Whisper White, Primrose Petals
Tools
: Big Shot, Lacy Brocade Embossing Folder, Little Leaves Sizzlitz, Butterfly punch
Finishing Touch
: use the strips of Pearl Basic Jewels by snipping trios of pearls and picking up the strip all at once using the tips of your Paper Snips (YES!!! You must get THESE scissors! Cutting everything as well as being extra pointed make these the most versatile tool for placing Mini Glue Dots, Pearls, Rhinestones, and layering these small pieces in just the right spot.)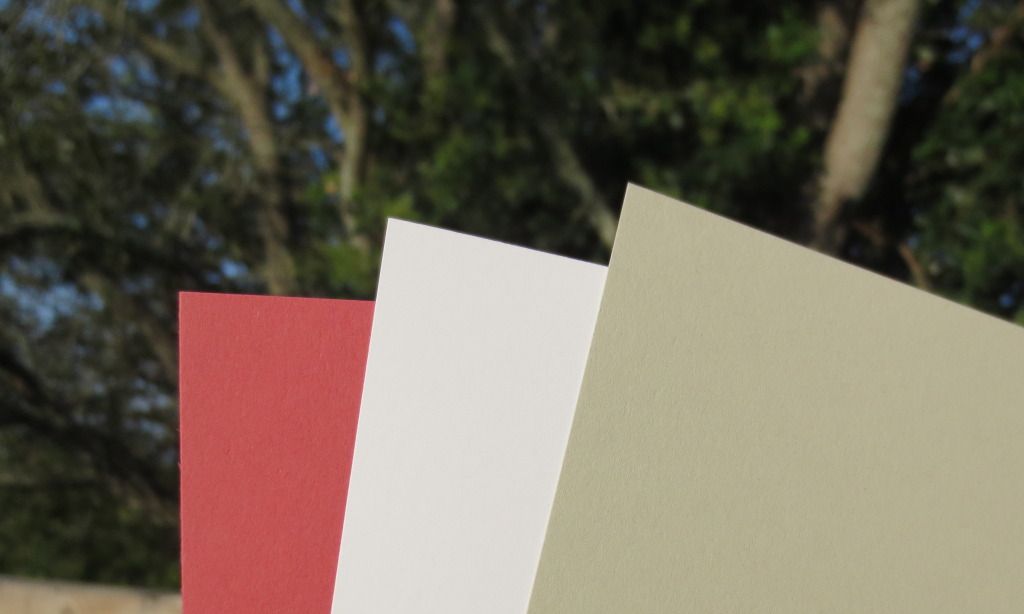 Don't ya love the color combinations.. who would'a thought???