Here's some of Carol's favorite apple recipes from the Fenton Apple Orchard in Sandy River Apples.....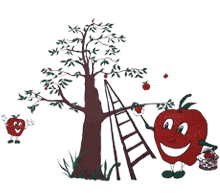 >>>

This recipe is just perfect on a hot summer day. The pie is cold and a
little tart. The whipped creme makes it melt in your mouth. Sometimes
I make it in a jelly roll pan ( a big rectangle) then I slice it into square,
bite size pieces. Stick a toothpick in it and you have a little bit of heaven
on a stick.



"Cidah Pie"

5 cups of cider
3/4 cups of sugar
10 Tablespoons of corn starch
1 teaspoon nutmeg
Bring all ingredients to a boil and cook until it thickens stirring with a
wire whisk. Pour into a pre-baked pie shell. Refrigerate over night and
serve with whipped creme.

Apple Cranberry Pie
3 cups peeled, sliced apples
1/2 cup of sugar
3 Tab. flour
1/2 tsp. cinnamon
1/4 tsp nutmeg
2 Tab. butter (melted)
1 (16 oz.) can whole cranberry sauce

Make pie crust for a two-crust pie and use a 9" pie pan. Heat oven to
425 degrees F. In large bowl, combine all filling ingredients; mix lightly.
Spoon into crust-lined pan. Top with second crust; seal edges and flute.
Cut slits in top crust.

Bake at 425 degrees F for 40 to 50 minutes or until crust is golden brown
and apples are tender. If necessary, cover edge of crust with strips of foil
after 20 min. of baking to prevent excessive browning. Serves 8.


Leona Davis of Mercer, Maine taught Carol this recipe. You can keep the
dough for about a week in the refrigerator which is a good thing.



Leona's Pie Crust

5 cups of flour
2/3 cup cold water
1 lg. egg
1 rounded tsp. of sugar
1 pound of Crisco
1 Tab. white vinegar
1-2 tsp.salt

Sift flour, sugar and salt. Cut Crisco into flour until it is crumbly. Beat egg,
water, and vinegar. Mix into crumbly flour. Make a ball ( I use my hands for
this) and place in tinfoil in the refrigerator for 1/2 hour. Roll out dough on
floured surface.If you need a baked shell. Bake it 10 min. at 450 degrees F.
>
Martha Stewart has nothing over these recipes!!!