So here we are in Maine... at the Sandy River Apple orchards.... inside an incredible 100+ year old barn Carol has restored as her Quilter's Quarters.... can't believe how beautiful it is and just amazing what Carol has done to make this come together... well actually I can believe it.. Carol is an amazing woman... loves her crafts and loves her friends... put them together and this is what you get... The Quilted Apple Retreat!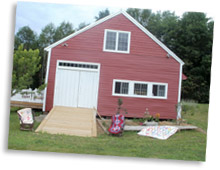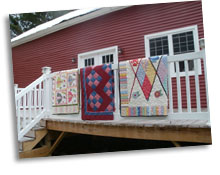 We'll be helping Carol and her dad pick apples from their apple orchard, perhaps make some cider and pies to sell to the "tourists" who come by... plus they can pick their own apples too... Jerry will be staying on to help Carol prepare for her Open House on October 9th of the restored barn, turn Retreat! It will officially open the Fall of 2012. Her Blog explains it all and I'll be sharing more pictures throughout the week so you'll see the progress.
Country quilting, downhome accommodations & delectable dining.
What could be more fun than spending an entire weekend quilting? And not just quilting, but partaking in bountiful culinary creations, taking walks along the river, and picking apples from over 500 heritage apple trees.
Located 2 miles off of Route 2 in the town of Mercer, The Quilted Apple Retreat is located on the heritage-rich Fenton family farm, nestled along the banks of the Sandy River near Skowhegan and Farmington. The Fenton farm has seen six generations attend to its needs and is surrounded by 200 acres of pine forests.
The
"Quilter's Quarters"
, a 1790's farm home, includes sleeping accommodations for eight. The sewing room is located in our newly renovated and spacious 200 year old "shot gun stock" barn.
All meals are included, from a welcoming "show 'n tell" get acquainted party featuring champagne and hors d'oeuvre buffet on Friday evening, through a lavish Sunday brunch before your departure.